RESERVATIONS are Highly Recommended;
Email; sdebike@gmail.com or Call (858)-345-1030
NOTE: No Bikes are allowed onto the Beach SAND ($50 Cleaning Fee)
NOTE: Persons under 18 years cannot rent Electric Bikes without an Adult present.
Locks & Helmets provided at no extra charge.
STANDARD RENTAL RATES "Electric"
$65 Open to Close
$20 1st Hour
$15 2nd – 4th Hours
PREMIUM RENTAL RATES "Electric"
$85 Open to Close
$25 1st Hour
$20 2nd – 4th Hours
NON-ELECTRIC BEACH CRUISERS
$25 1st Hour ($10/hr after 1st hr)
$20 2nd – 4th Hours
$85 Open to Close
For any rental bike: anything over 4hrs = all day rate
Local Discount

Anyone who lives within 100mi of SD gets:

$20 off all day day rate
$5 of hourly rates
Premium Rental eBikes: ONE of EACH

Gondolier
U-350 (Cargo/Utility)
Tahoe (4in Fat Tire)
Newport (Comfort Cruiser)

Standard Rental eBikes:

Magnum Ui5 (Comfort Step-Thru) FIVE ttl
Magnum Mi5 MTB; ONE ttl
Classic (20in Folder); ONE ttl
Premium (20in Folder); ONE ttl
Juiced Cross Current (28mph S-Pedelec). 18yrs + ; ONE ttl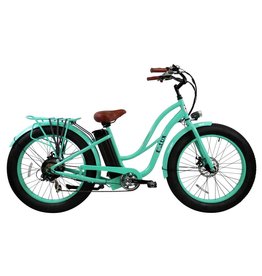 Tahoe Fat Tire
U-350 Cargo/Utility
USED Electric Bikes (April 2017)
San Diego Electric Bike has the best selection in California.<br>
USED eBikes; 30 day warranty; all have good batteries, and all are reduced $200<br>
$1299 Magnum Ui5 Step-thru. White or Black Long Range eBike.<br>
$400 Silver MTB Chinese eBike, 24v, 10ah Battery.<br>
$799 ProdecoTech Mariner<br>
$799 ProdecoTech Oasis Magenta Step-Thru Cruiser <br>
Like New Condition 750w 48v RPE 8ah, Hydrauilc Brakes.<br>
$599 ProdecoTech Phantom "X"., 500w, 36v 11.5ah battery, new Motor, Folds too!<br>
$799 Pedego White Step Thru, 500w, Li 8.7ah Battery.<br>
$1199 E-Lux Newport Step-Thru 600w, 10ah Battery<br>
12/9/2016
daily we jog by San Diego Electric Bike pushing our double stroller and i have long dreamed of the day we'd get to rent a bike that we could put our kiddos into with us– what a treat it was to be able to use their Virtue Cyles Gondoliere style bicycle– you know, like the ones in Europe 🙂 where you load up all your kids in the box and go. I loved the assisted pedaling 🙂 – it truly MADE the experience for me that I could cruise up hills and "pedal just for looks" 🙂 – my husband also loved his electric bike – it was super zippy! could there be a better way to spend a morning? so many delicious options for coffee/food on the 101!
love that our rental included our helmets and bike locks! we will certainly return and HIGHLY recommend rentals from this location! and as for the customer service- the staff were SO helpful, kind, did a very thorough job of making sure we understood the gears and levels of "assisted pedaling" – even in their busyness of many people trying to rent bicycles they didn't lose their sincerity in dealing with all of us folks 🙂 WE are thankful! Had a great experience! 🙂
AND – we left our kiddos sippy cup in the shop and before we realized it they gave us a courtesy call letting us know they had it – how awesome!
Came here for the second time this past Saturday and I have to say I really love this small business. Super helpful and accommodating for last minute rentals and all around nice people that work here! We will only rent electric bikes now that we know how easy and fun the ride is! Keep up the awesome work guys and I'll keep telling everyone I know to come see you!
These guys will treat you right when you're shopping for your electric bike. The entire team is friendly and knowledgeable, it is clear that they want you to leave a satisfied customer. I went in looking for a cruiser and left with an awesome folding bike. Hearing about the options with the bike was a deal closer for me. Having a blast with it so far. Highly recommend this shop for all your electric bike needs and bike accessories in general.
9/17/2016
Great service and price! And so fun to ride electric bikes. My wife and I can cruise along together, each pedaling as hard or easy as we want.
Dave, the owner, is super friendly and made us feel welcome.
Highly recommended!!!