Description
Email for availability & best price.; sdebike@gmail.com
U350 Utility Electric Bicycle Only $1499
48v 350w, 15ah Li Battery,
U500 Utility Electric Bicycle $1999 (15ah battery), $2499 (23ah battery), $3199 (32ah Battery) Three Speed with Cruise and Twist Throttle.
---
---
Product Overview
The new 2016 ODK version 3 is designed from the ground up to be the ultimate car-replacement electric bicycle. Every part has been carefully designed with performance, reliability, practicality and serviceability in mind.
EV-Class performance
We poured over every detail, listening carefully to the feedback from our customers. We examined how the product was being used and improved any weaknesses. Our 3rd generation ODK platform has really matured and now stands alone in the utility/cargo e-bike category.
The core of the platform: The Battery
New for this season are three interchangeable 48V battery pack capacity options:
$ 1,999 MSRP
A "Standard Range" 15Ah version provides a real world
40 to 50 miles
riding and is the most affordable entry to the world of utility/cargo e-bikes.
$ 2,499 MSRP
The 23Ah "Long Range" version pushes the assisted riding distance out to
60 to 75 miles
and farther than any other competitor on the market.
$ 3,199 MSRP
The revolutionary "Super Long Range" 32Ah version pushes the limits of e-bike battery technology providing
over 100 miles
of assisted riding range with 1,536 Watt-Hours. The pack has 4x more capacity than an average e-bike battery and even more than a Toyota Prius!Our high-capacity battery and aluminum low-step cargo frame is the core of the ODK Utility platform. We worked hard to retain 100% conformity to bicycle standards and the mechanical parts can be serviced at any bicycle shop. The electrical components are modular and very easy to service.Rather than installing poorly performing off-the-shelf electric drive kits, we have invested 5 years developing our own system that can go far beyond the limitations of standard e-bike technology. Our custom battery pack and specially tuned electronics are integrated perfectly to create the ultimate car replacement e-bike.By sourcing the components directly and doing the integration in-house, we have full control of the platform and can work with our suppliers to achieve the highest value end product.
---

Full control: We engineer the electronics
The controller is upgraded from 9 to 12 transistors providing powerful and reliable performance. The throttle is re-mapped to give smoother acceleration and delay-free response. New half-twist throttle provides a more linear feel and higher quality tactile experience. The highly popular cruise control function is standard as always.
---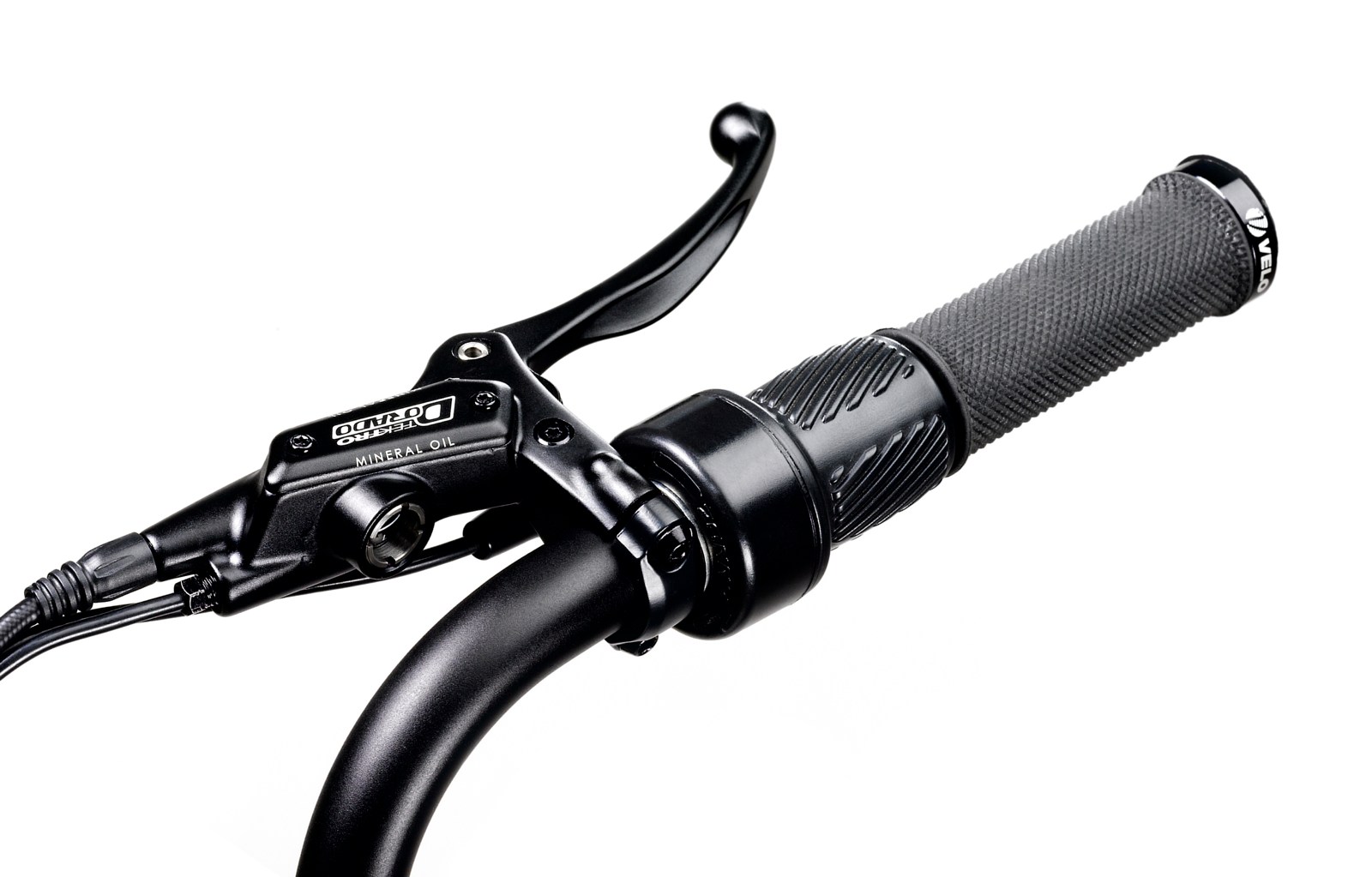 Absolute stopping power
A a fast and heavily loaded e-bike needs good brakes. We have chosen the best hydraulic disc brakes available for e-bikes. The stopping performance is absolutely incredible even at max loads or in wet weather. The brake pads can self-adjust as needed, reducing time needed for frequent servicing.
---
New motor winding
The robust, sensorless 500-Watt BPM motor has a new winding pattern. Higher average speeds can be achieved while it is now easier to pedal with the motor to extend the battery range. An improved fork with 6 mm dropouts contain the motor's torque. A new rim and spoke pattern improve the wheel's durability.
---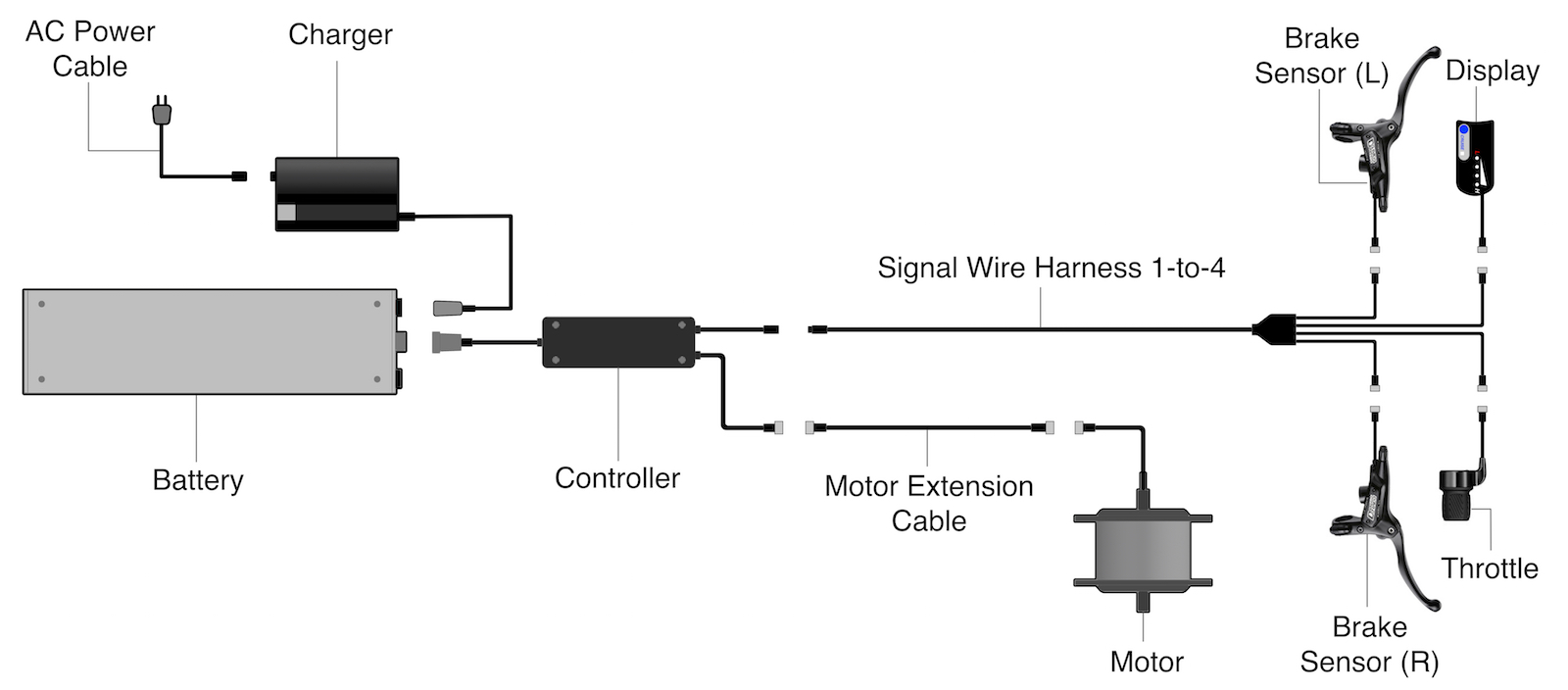 New wiring harness
Small details significantly improve the product. Improved quick-connectors with stainless-steel lock-ring are fitted to all of the connections from the throttle down to the motor connector. Enjoy improved reliability and modern styling.
(read more)
Super Strong Frame
Unlike other "bicycle" frames, the ODK platform is designed from the ground up to handle the demands of a high-performance cargo e-bike. Even with a wide and low step-thru section, the frame feels very solid due to the custom extruded downtube.
---
Accessory Canvas
The rack supports have been significantly beefed-up for a more stable loading of child seats and rear rack add-ons. New for the V3 bikes are frame-welded accessory mounts for attaching a front basket or rack directly to the frame. The pannier rail design have been improved to allow for better compatibility with standard bicycle bags. We even added water bottle cage mounts to the down tube.
Designed for the Professional
The ODK platform is the perfect platform for delivery, rental and other industrial applications where maximal uptime and minimal running cost are critical.
Features
Industry-leading 15.6 Ah, 23.4 Ah or 32 Ah Samsung lithium battery pack at 48 Volts
500 Watts / 20 mph geared front hub motor
Front and rear hydraulic disc brakes
3-Speed SRAM internal hub shifter
Twist throttle with cruise control function
Integrated utility rack 330lb total loading capacity
High gearing: front 52T and rear 16T for pedaling at higher speed
Frame-welded front accessory mount
Comfortable upright riding position
Low step-through design for easy boarding
2x thick Inner-tube and K-924 E-Bike Spec Tires
Durable heavy gauge spokes
All thread-locked Allen screws
Light-weight and rust-free aluminum frame
Sturdy 20-inch BMX-style wheels
Lock-on hand grips
Aluminum platform pedals
Multiple pannier and accessory mounting options
Mud guards included
Dual Kickstand bridge plates
Rear LED lights
Custom "Moto-styled" handle bars
3 Amp HP charger with fan cooling
2-Year Warranty
Technical Specifications
The U500 is about the same length size as a normal bicycle.
Technical Specifications